EverScape — NYC Fringe Festival and Sonorous Road Theater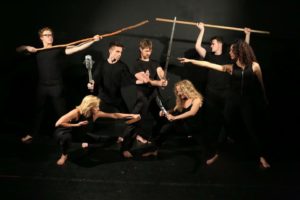 If you had the chance to leave behind everything you hated, what would you trade to make your fantasy a reality? In this stage play, four gamers escape the tedium of everyday life in EverScape, an online world of adventure and epic battles. But when EverScape offers them a chance to win jobs as game developers, the four must decide which is more real: the game, or their lives? EverScape was produced as part of the 2015 NYC Fringe Festival in August 2015 and by Bare Theatre in October of 2016 (winning a Best in the Triangle theater award from the Raleigh N&O); the Bare Theatre production was also revived June of 2017.
UPtick Sales Simulator – Selleration Games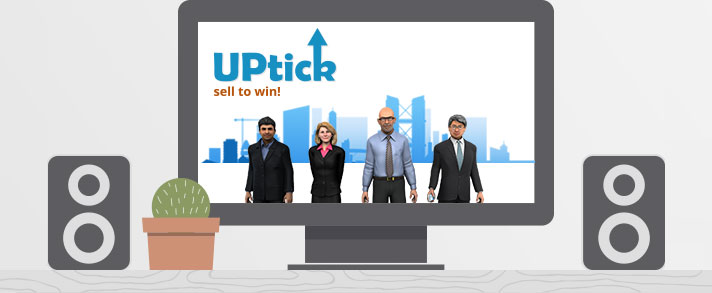 With countless intangibles and unpredictable clients, becoming a successful salesperson is not easy. This in mind, Selleration Games engaged me to lead the writing and story for UPtick, a serious game devoted to training salespeople in research, listening, and negotiation skills. Playing out as a series of timed conversations between the player and different company stakeholders, UPtick offered an immersive game experience to make sales training more effective and more fun.
*****
The following videos are from my game writing for Fallen Earth by Icarus Studios. To view the scripts for these and other game writing in context, please visit this link to my game writing and scripts for Fallen Earth.
"Life is Cheap" – Video Game Trailer — Icarus Studios

At its core, a good video game trailer is about exciting possibility: what can a player do in this game that will inspire both water cooler retellings and unabashed boasting on internet forums? This was the core idea behind this character-driven trailer for Fallen Earth, a post-apocalyptic MMORPG – I wanted to give our future players a glimpse at a possible path for their online personas while also introducing the gritty and darkly funny world of the game.
"Your New Life" Cut-Scene from Fallen Earth — Icarus Studios
The best function of an in-game cut-scene is to raise the stakes, adding dramatic weight to the experience and using story to drive the player forward. Once the player has finished the prologue level of Fallen Earth, he has battled past murderous mutants and hired mercenaries to save the Hoover Dam from destruction — at the cost of his own life. Thankfully, the player is able to come back to life thanks to cloning technology, and this animation guides him to the next step of his adventure in the post-apocalyptic world of the game.